Dr. Charles Kimball is the author of several books that explore the intersections of religion, politics, and society. His works offer insights into the complexities of interfaith relations and provide readers with strategies for promoting peace and understanding.
Truth Over Fear: Combating the Lies About Islam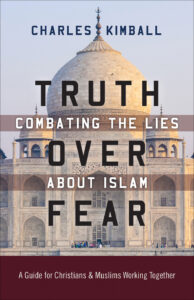 Questions and fears about Islam have proliferated American life for decades, from the Iranian Revolution in 1979 to the September 11, 2001, attacks. Yet more recent history has seen a new development in the tangle of Christian-Muslim relations: the mainstreaming of Islamophobia as a path to political and societal power at the highest level. Politicians and religious leaders now routinely spread fear and confusion about Muslim beliefs and practice in order to bolster their own positions.
​Many recognize what is wrong with this situation but are frustrated with what seem to be limited options for response. Truth over Fear provides resources to address the manipulation of religious misunderstanding and intolerance.
From renowned Christian scholar of Islam and longtime participant in Christian-Muslim engagement, Charles Kimball demystifies Islam, the world's second-largest religion, and provides practical guidance on how to share simple facts about Muslim beliefs and practices with family and others, how to take the first steps in dialogue with Muslim neighbors, and how to move beyond dialogue to shared ministry and community building.
When Religion Becomes Evil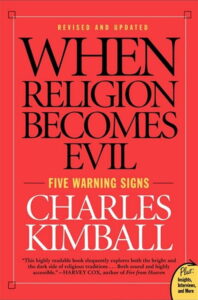 Whatever religious people may say about their love of God or the mandates of their religion, when their behavior toward others is violent and destructive, when it causes suffering among their neighbors, you can be sure the religion has been corrupted and reform is desperately needed. When religion becomes evil these five corruptions are always present. Conversely, when religion remains true to its authentic sources, it is actively dismantling these corruptions … "
​Religious persuasions are indisputably central factors in the escalation of evil and violence on the global scene, and hence a growing subject of popular concern and debate.
Many argue that religion is the chief source of problems in the world today. Central to this debate is the need to distinguish between "corrupt" forms of religious expression and the "authentic" forms that offer real correctives and solutions to this global threat.
Religion and mid-East politics expert Charles Kimball offer a timely examination of the nature and signs of religious evil, while outlining the correctives to these corruptions within each of the major religious traditions. Grounded in his experience as a Christian working closely with Muslims and Jews at the intersections of politics and religion over the past twenty-five years, Kimball outlines a clear description of the five basic corruptions that manifest themselves in each of the major religious traditions.
While no single tradition is exempt from these corruptions, each has the ability and means to identify and correct such tendencies within its own wisdom tradition. When Religion Becomes Evil offers a reliable guide to this urgent global issue, showing us that the ways in which people of faith understand and live out their deepest religious commitments will have profound consequences for the future of humanity.
When Religion Becomes Lethal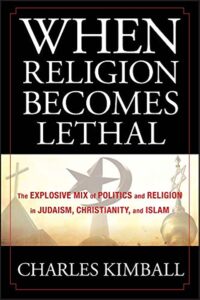 In his second book, bestselling author Charles Kimball addresses the urgent global problem of the interplay between fundamentalist Abrahamic religions and politics and moves beyond warning signs (the subject of his first book) to the dangerous and lethal outcomes that their interaction can produce.
Drawing on his extensive personal and professional knowledge of, experience with, and access to, all three traditions, Kimball's explanation of the multiple ways religion and politics interconnect within Judaism, Christianity, and Islam will illuminate the problems and give readers a hopeful vision for how to chart a safer course into a precarious future.
In addition to his books, Kimball has also published numerous articles and essays on topics related to interfaith relations and religion in the public sphere. He is a frequent commentator in the media, and his insights are sought after by policymakers and scholars alike.
Audio Books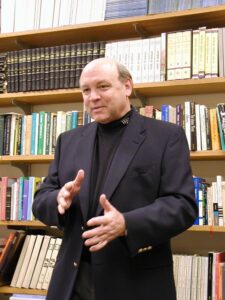 Dr. Charles Kimball has produced several audio recordings of his lectures and speeches on interfaith relations, religion and politics, and other related topics. These recordings offer listeners a chance to hear Kimball's insights and perspectives in his own voice, and are a valuable resource for those interested in learning more about these important issues.
One of Kimball's most popular audio recordings is his lecture series "The World's Religions: Our Great Wisdom Traditions". In this series, Kimball provides an overview of the major world religions, including Christianity, Islam, Judaism, Hinduism, and Buddhism, among others. He explores the history, beliefs, and practices of each tradition, and offers insights into the ways in which they have shaped our world.
Another of Kimball's audio recordings is his speech "Interfaith Dialogue and Peacemaking in the 21st Century". In this speech, Kimball discusses the importance of interfaith dialogue in promoting understanding and cooperation between people of different faiths. He explores the challenges and opportunities that exist in this field, and provides practical advice for those seeking to work towards greater peace and understanding in the world.
Kimball's other audio recordings include lectures on topics such as "The Middle East and the West: Religion and Politics in Conflict", "Religion and Public Life in America", and "The Future of Interfaith Relations". These recordings offer listeners a chance to engage with Kimball's ideas and insights in a dynamic and accessible format.
Overall, Dr. Charles Kimball's audio recordings are a valuable resource for those interested in interfaith relations, religion and politics, and other related topics. His engaging style and thought-provoking ideas make these recordings a must-listen for anyone seeking to deepen their understanding of these important issues.
Conclusion
Overall, Dr. Charles Kimball's books are essential reading for anyone interested in understanding the complexities of interfaith relations in the modern world. His thoughtful analysis and practical advice offer readers a path towards greater understanding and cooperation, and his work continues to be an important contribution to the field of interfaith dialogue.